31st January 2016
Fashion
Love This Post!
My New Workout Clothing
This year I have signed up to take part in the London Marathon in support of the charity Cancer Research UK. It'll be my first ever marathon, (or sporting event of any kind come to think of it!) so I'm slightly terrified by the prospect, but also incredibly excited to be working with such a great charity.
As you may know, I am an ambassador for Cancer Research UK, meaning I work frequently with them on their various projects and campaigns. Running the London Marathon is for a brilliant cause and it would mean the world if you could donate to my page here! I haven't yet set a target, but honestly even the smallest, tiniest amount will make the biggest difference so please donate what you can.
I'm currently running anything between 10km-20km about 3 times a week, so I've been in need of some new workout clothes that will keep me warm, enhance my performance and generally make me look the part! All the new items I've bought are from 4 different sportswear brands; Nike for the classic, professional running wear; Sweaty Betty for a more fashionable take on sportswear; H&M for the affordable basics; and ALO Yoga for their unique bright patterns.
Tops
Nike
This first top is a long sleeved, lightweight top from Nike* with a high neck. It's part of the AeroReact technology meaning when you get hot the fibres open to allow better breathability, and when you cool down the fibres close again to keep you warm.
H&M
I was drawn to this top by the turquoise colour because I love wearing bright colours while running and working out. It seems to always have a positive effect on my training compared to when I wear plain, dull clothes. It has mesh paneling along the neck and the back, and is reasonably priced at just £12.99.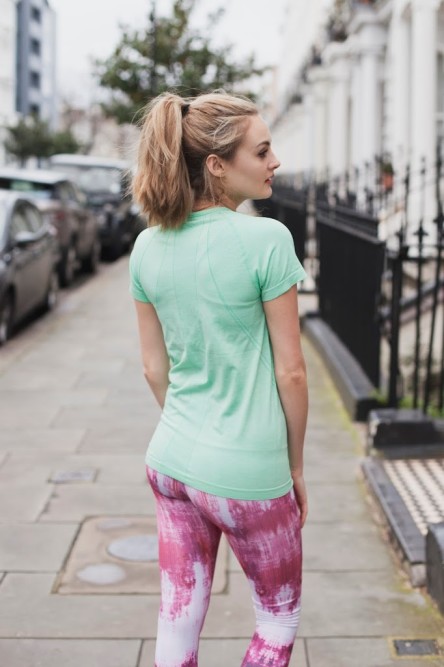 Sweaty Betty
This is one of my favourite running tops because of how lightweight and seamless is feels when it's on, allowing for a smoother run. As it is specifically made for running, the hood stays up, which is something I always struggle with when wearing standard hoodies!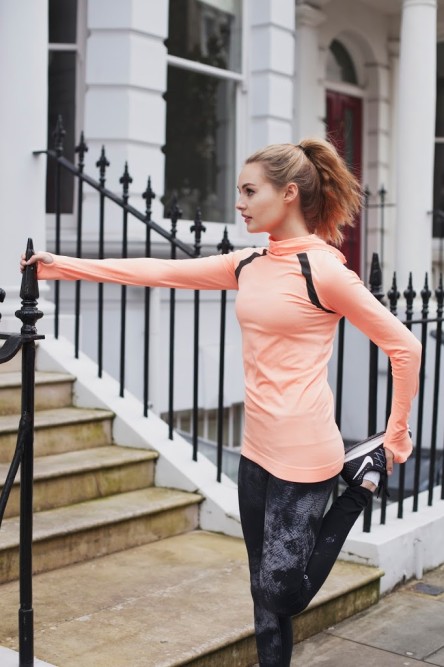 Leggings
ALO Yoga
I adore the bright, unusual patterns of the leggings from ALO Yoga*. They're so unique and definitely eye-catching! These are so comfortable too, I could wear them all day long. They also feature a small hidden pocket at the front, ideal for holding keys or a gym card.
ALO Yoga
These are the same leggings as above, but in a dark smoke pattern.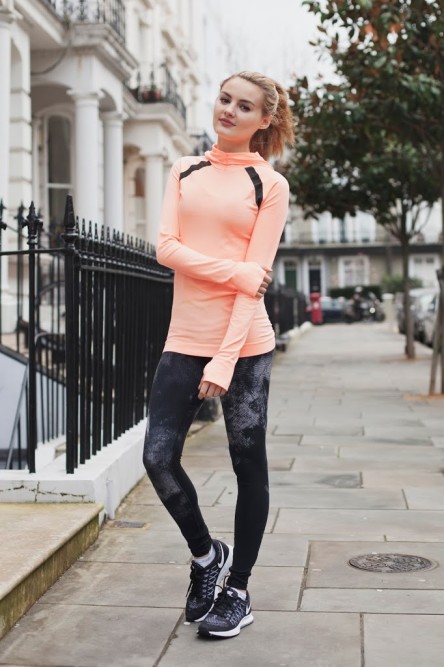 Nike
These look incredibly professional, and the science behind them is too. The blue markings map the muscles to compress them and keep them warm while training, so you can keep going for longer.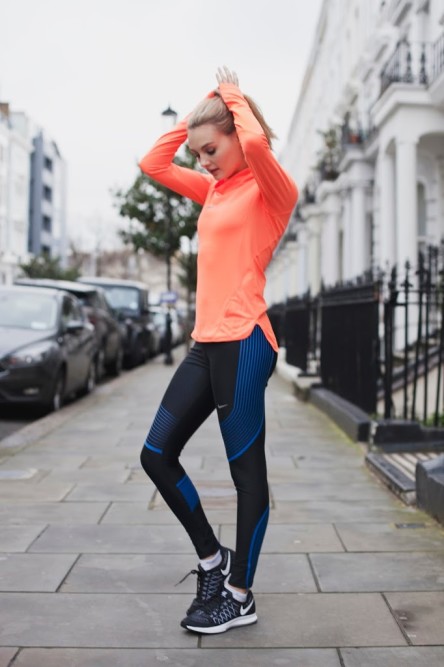 Sports Bras
ALO Yoga
As seen in my video below.
This bra is perfect for any gentle exercise such as yoga. Typical to the brand, it has a beautiful blue pattern that makes this bra look lovely worn under open back tops and racer vests. Because of the low support I tend to wear this in the gym rather than running.
Nike
As seen in my video below.
If you're looking for a bit more support in a sports bra, try this Nike Classic Padded Sports Bra*, which has removable padding inserts to provide added support and shape if you need it. I've found this one to be ideal for running in, and it also comes in various patterns and colours to choose from.
Outerwear
ALO Yoga
This jacket looks more like casual wear than sportswear. I love wearing this jacket to and from the gym to keep me warm but still look fashionable.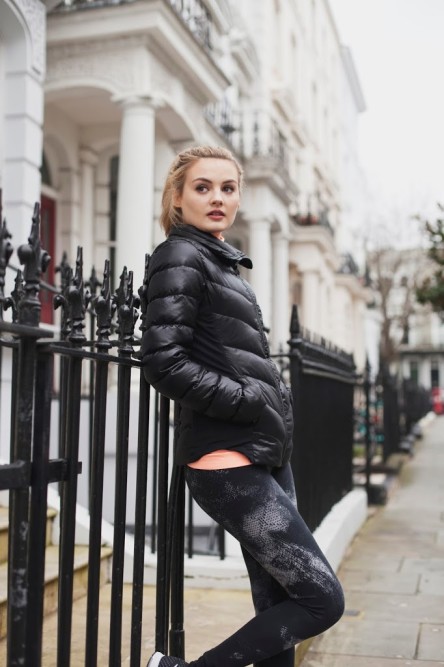 H&M
I prefer wearing outer layers with a full zip at the front rather than a pullover because after a run when I'm hot and sweaty all I want to do is take off the layers as easily as possible without having to pull anything over my head and getting stuck!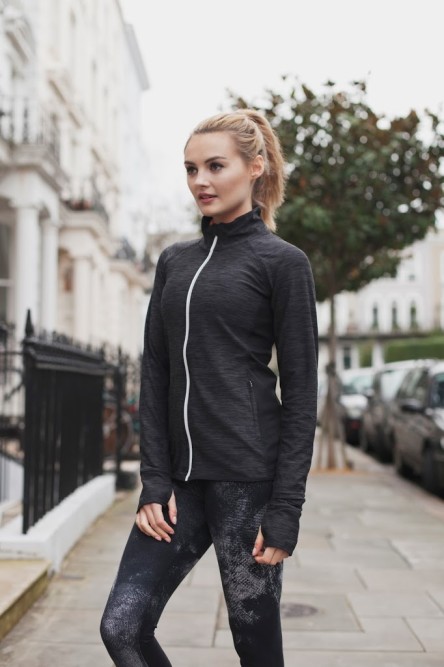 Sweaty Betty
Part of the Luxe range, this Sweaty Betty* sweater looks good enough to wear casually on non-workout days. The material is so soft and I love the wide, high neck design. It has reflective panelling on the arms, giving it the luxe sport effect.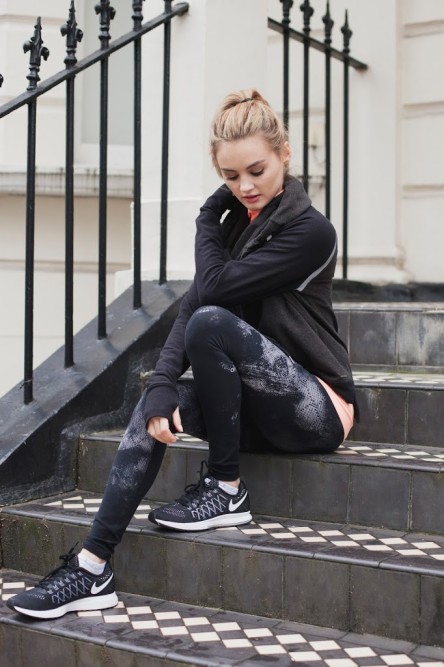 Accessories
Nike
Featured throughout.
After having the same pair of running trainers for a very long time, I finally have new ones that are suitable for me. I went into the Nike store on the King's Road where I ran on a treadmill and one of the consultants showed me which trainers would be best for my running technique. These are called Air Zoom Pegasus 32*, and I have been surprised by how much they improve my running.
Nike
These aren't actually for running or working out, but I still wanted to include them in here because I've fallen in love with them! They're the brand new Nike Flyknit Air Force One's*, launched only this week. They're much lighter than previous generations and are so incredibly comfortable from the soft cushioning.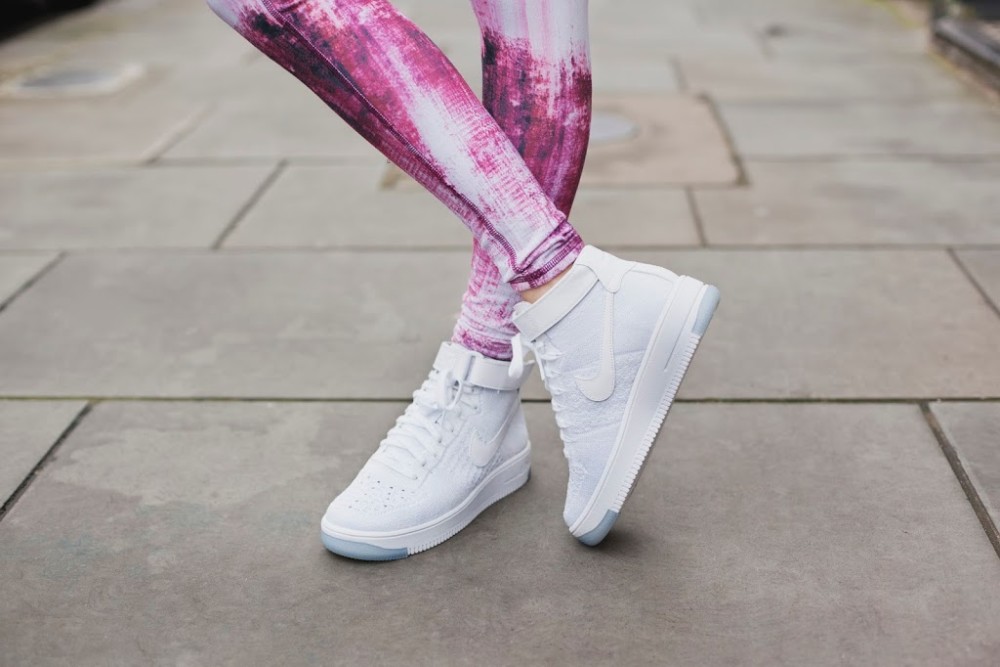 Sweaty Betty
I've been looking for a new gym bag for a while, but I hate how 'sporty' they all look. I know that sounds ridiculous but I've never been too keen on how heavily branded some sportswear bags can be. I love this one from Sweaty Betty* because it looks like it could be a sophisticated overnight bag as much as it is a sports bag. The bottom half unzips for a handy compartment to keep accessories in or a towel.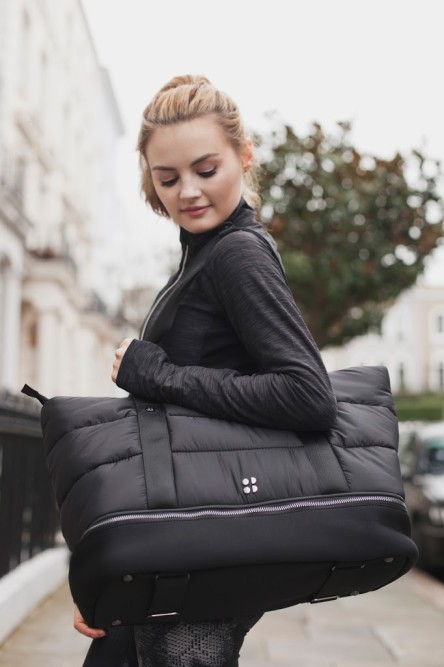 Sweaty Betty
Running gloves are never going to look the most attractive, but I like these ones because they're lightweight and fit well meaning you forget they're on. This time of year it's important to keep your hands protected from the cold and the wind to avoid getting dry, cracked skin.
Sweaty Betty
Ears are another part of the body that need protecting from the frosty wind when running, so I found this one in a lovely colour that looks (relatively) good on!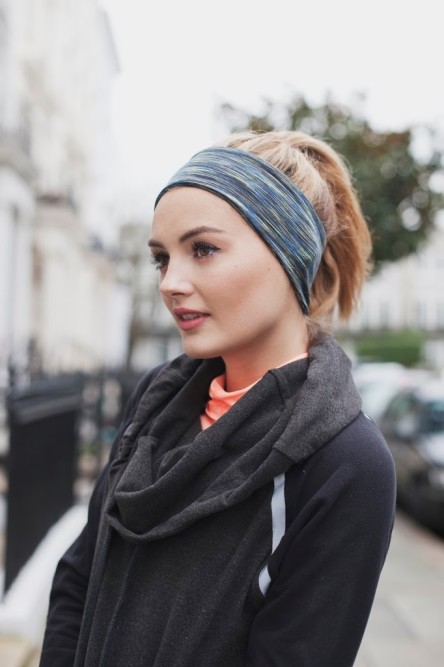 *I receive a % of revenue from links with an asterisk next to them.
Photographer Credits | Suzi Ovens | www.suziovens.com
NS
Latest Posts
Creamy Vegan Pesto Pasta
It's World Vegan Day, so to celebrate I have created a creamy vegan pesto recipe to show just how simple and easy vegan cooking
01 November 2019
Living Consciously
This contains a paid for advertorial in collaboration with bareMinerals. In a personal effort to live more consciously, I wanted to provide you with the
14 November 2018